Suction Easy Manual Suction Unit
This handy manual suction unit can be carried in your items kit or stored at remote locations where access to more expensive alternatives are uneconomical. This unit comes in a storage bag that doubles as a hazard waste storage container. With a capacity of greater than 1000 cc the Suction Easy can be operated with minimal force and is designed to reach a maximum vaccum level of 100 mmHg.
A Paediatric catheter is available as an optional accessory. See below.
To view the operator instructions for the Suction Easy in pdf format please click here --->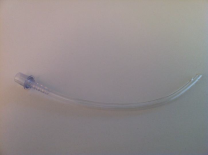 A useful accessory for the Suction Easy for:-
Paediatric casualties
Casualties who have surgical airways
Casualties who have been intubated
Patients who suffer from hyper salivation and have to self administer oral suction
Length 18cm Width 3mm